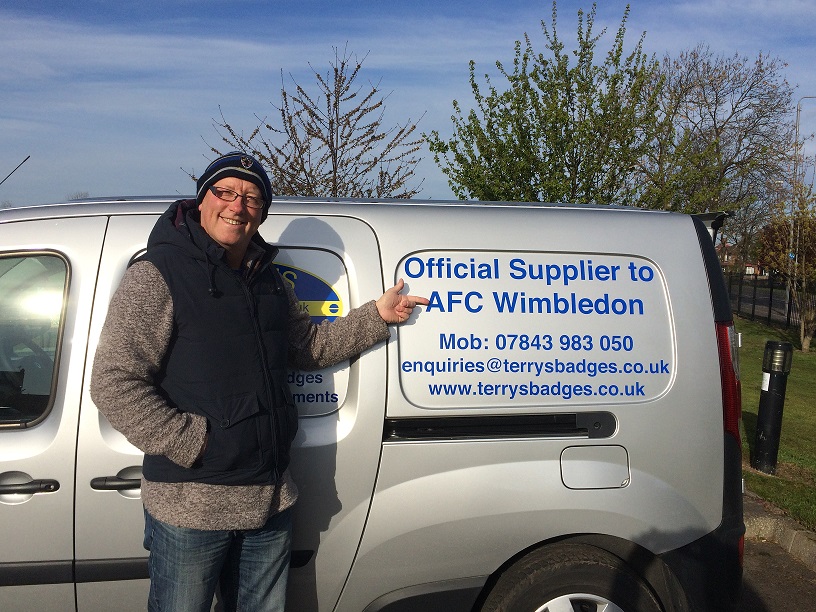 Welcome to Terry's Badges
Welcome to my Web Site!

This site is dedicated to Non-League football badges.
I have always had a passion for Non-League football, as a player, manager and chairman of my local clubs. I enjoyed 21 successful years as a player with Stokenchurch FC, Lane End FC and Beacons Bottom Athletic FC. I also played for the very successful Lane End United FC Sunday side.

I collect English Non-League badges plus I have many for sale as you will see on this site! I also design and produce badges for 100's of Non-League clubs up and down the country. I only use the best enamel and fittings as most of you will testify.

I am a keen AFC WIMBLEDON supporter and attend all home and some away games. I also like to visit loads of Non-League grounds. I also design, produce and sell all AFC's badges with all the profits from these badges going to AFC! As far as I am aware we are the only club to have a framed set of badges for every season!

If you click my "sales list" you will find the 100's of badges I have for sale. If your club/business require a badge please contact me for production details.

If you have any queries please use my "contact" link.

TERRY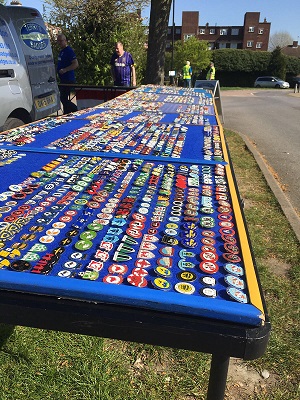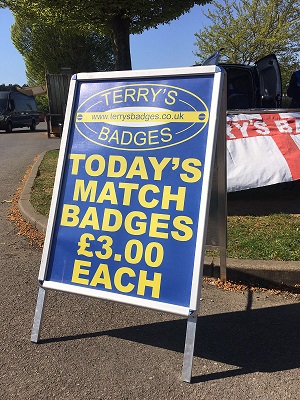 If you would like a badge produced for your football club/company/school/or any other sports club let me know! Please visit my production page for further details
The website is not always up to date. Please feel free to send me a list of your requirements and i will let you know what i have in stock
On up-dated pages
BLACK = In Stock - RED = Out of Stock
New badges added, previously not listed:
13/05/23 - General page A to E up-dated
13/05/23 - Scottish page up-dated
13/05/23 - Welsh page up-dated
13/05/23 - Eynesbury United 248 - General page "E"
13/05/23 - Watlington Town 614 - General page "W"
13/05/23 - Saltash Borough 783 - General page "S"
13/05/23 - Woodcote 615 - General page "W"
13/05/23 - Southam United 784 - General page "S"
13/05/23 - Shipston Excelsior 785 - General page "S"
13/05/23 - Hollington United 596 - General page "H"
13/05/23 - Yetminster 50 - General page "Y"
13/05/23 - Hartpury University 597 - General page "H"
13/05/23 - Meadow Park 307 - General page "M"
13/05/23 - Mansfield Hosiery Mills 305 - General page "M"
13/05/23 - Mickleover RBL 306 - General page "M"
BADGES BACK IN STOCK
Ascot United 109
Honiton Town 473
Mortimer 288
Clanfield '85 451
Teversal 144
Wombwell Town 424
Litherland 211
Wingate & Finchley 420
I will have my badge stall at the following events!



ANNUAL YORKSHIRE PROGRAMME & MEMORABILIA FAIR
Saturday 27th May 2023
Pudsey Civic Hall, Dawsons Corner, Pudsey, Leeds, LS28 5TA
10.30am to 2pm


WOLVERHAMPTON WANDERERS FOOTBALL MEMORABILIA FAIR
Sunday 4th June 2023
10.30am to 1pm


ALFRETON TOWN FOOTBALL BADGE FAIR
Saturday 24th June 2023









13/05/23 - 15.09
Terry Hall