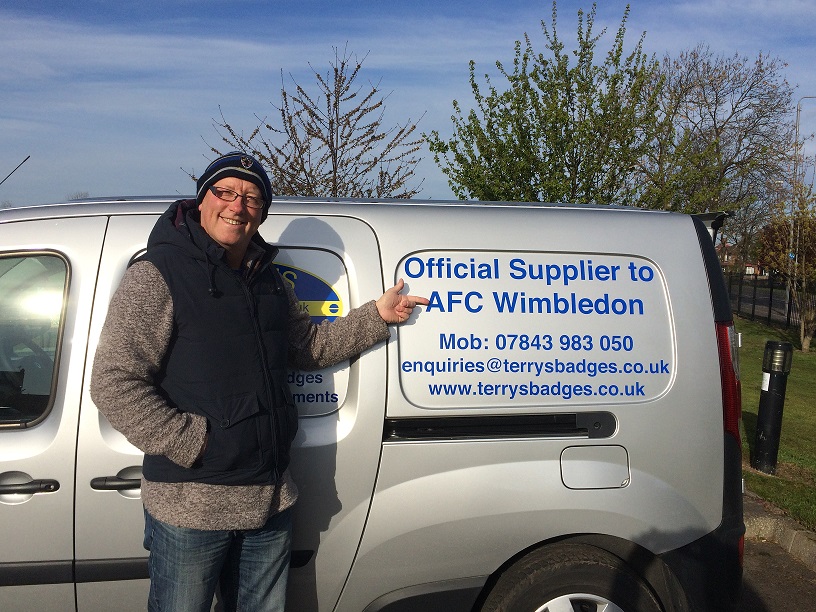 Welcome to Terry's Badges
Welcome to my Web Site!

This site is dedicated to Non-League football badges.
I have always had a passion for Non-League football, as a player, manager and chairman of my local clubs. I enjoyed 21 successful years as a player with Stokenchurch FC, Lane End FC and Beacons Bottom Athletic FC. I also played for the very successful Lane End United FC Sunday side.

I collect English Non-League badges plus I have many for sale as you will see on this site! I also design and produce badges for 100's of Non-League clubs up and down the country. I only use the best enamel and fittings as most of you will testify.

I am a keen AFC WIMBLEDON supporter and attend all home and some away games. I also like to visit loads of Non-League grounds. I also design, produce and sell all AFC's badges with all the profits from these badges going to AFC! As far as I am aware we are the only club to have a framed set of badges for every season!

If you click my "sales list" you will find the 100's of badges I have for sale. If your club/business require a badge please contact me for production details.

If you have any queries please use my "contact" link.

TERRY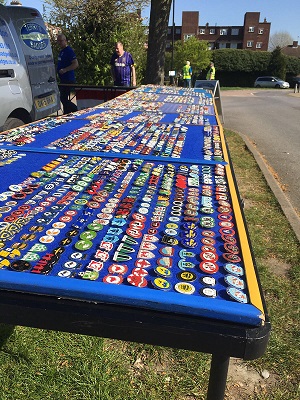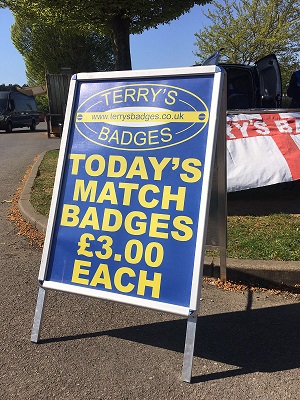 If you would like a badge produced for your football club/company/school/or any other sports club let me know! Please visit my production page for further details
The website is not always up to date. Please feel free to send me a list of your requirements and i will let you know what i have in stock
On up-dated pages
BLACK = In Stock - RED = Out of Stock
New badges added, previously not listed:
12/09/21 - AEK Boco 281 - General page "A"
12/09/21 - Dunstable Town 267 - New 21/22 page
12/09/21 - Ilkley Town 54 - General page "I"
12/09/21 - West Cornwall 621 - General page "W"
12/09/21 - Greenways 222 - New 21/22 page
12/09/21 - Pitstone & Ivinghoe 203 - General page "P"
12/09/21 - Stockbridge 748 - General page "S"
12/09/21 - Beaconsfield Town 803 - New 21/22
12/09/21 - Wigginton Grasshoppers 587 - General page "W"
12/09/21 - Seaton Sluice 749 - General page "S"
12/09/21 - Amersham Town 282 - General page "A"
12/09/21 - Aston FC 283 - New 21/22 page
12/09/21 - VCD Athletic 42 - New 21/22 page
BADGES BACK IN STOCK
Cannock United 560
Edgbaston Spartans 230
Redcar Town 272
Slimbridge 133
Aylesbury United 172
Lakenheath 281
South Liverpool 693
Mulbarton Wanderers 253
Moreton Rangers 219
I will have my badge stall at the following events!


Wycombe Wanderers v Gillingham 09/10/21
AFC Wimbledon v Sheffield Wed 16/10/21
AFC Wimbledon v Wigan Ath 23/10/21


Witney Groundhop
Saturday 18th and Sunday 19th September 2020
Saturday games at Cassington FC, Freeland FC and Hanborough FC
Sunday Sherborne Harriers FC and Kingham All Blacks


YEOVIL & DISTRICT FOOTBALL LEAGUE GROUNDHOP
Saturday 25th September 2021
3 games


Scottish Groundhop weekend
1st - 2nd - 3rd October 2021


Stoke Memorabilia Fair
Sunday 10th October 2021


Bristol Football Memorabilia Fair
At Bristol Manor Farm FC, BS9 2HY
Sunday 24th October 2021
10.30am to 1.30 pm


Wolverhampton Wanderers Memorabilia Fair
Sunday 14th November 2021


SHEFFIELD FOOTBALL MEMORABILIA FAIR
Thursday 30th December 2021
10am to 1pm
Norton Country Club, Norton Lane, Sheffield, S8 8HD
Free Entry







LAST UPDATED 15/09/21 - 09.45
Terry Hall