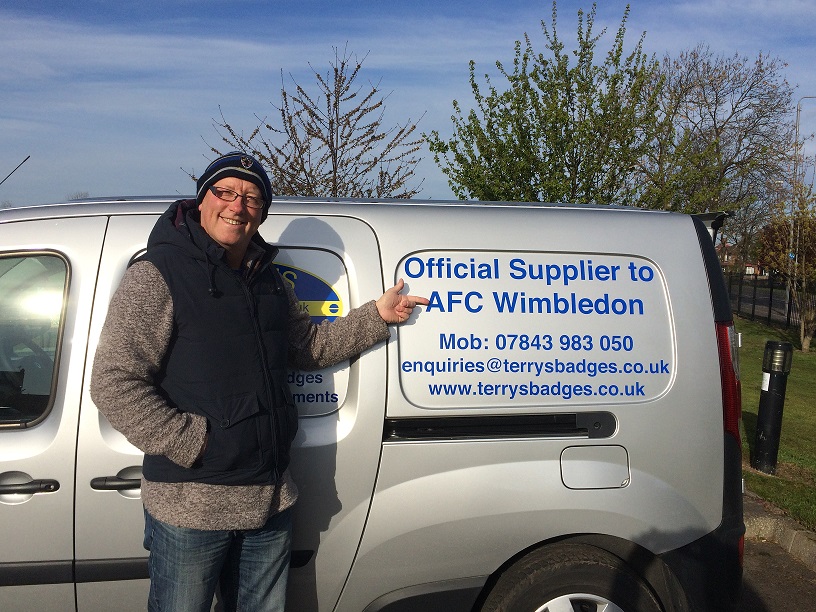 Welcome to Terry's Badges
Welcome to my Web Site!

This site is dedicated to Non-League football badges.
I have always had a passion for Non-League football, as a player, manager and chairman of my local clubs. I enjoyed 21 successful years as a player with Stokenchurch FC, Lane End FC and Beacons Bottom Athletic FC. I also played for the very successful Lane End United FC Sunday side.

I collect English Non-League badges plus I have many for sale as you will see on this site! I also design and produce badges for 100's of Non-League clubs up and down the country. I only use the best enamel and fittings as most of you will testify.

I am a keen AFC WIMBLEDON supporter and attend all home and some away games. I also like to visit loads of Non-League grounds. I also design, produce and sell all AFC's badges with all the profits from these badges going to AFC! As far as I am aware we are the only club to have a framed set of badges for every season!

If you click my "sales list" you will find the 100's of badges I have for sale. If your club/business require a badge please contact me for production details.

If you have any queries please use my "contact" link.

TERRY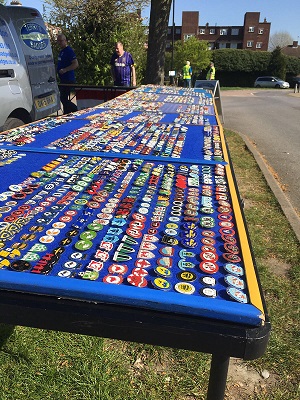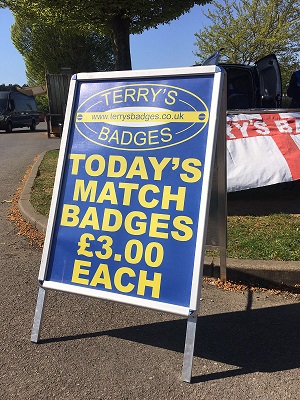 If you would like a badge produced for your football club/company/school/or any other sports club let me know! Please visit my production page for further details
The website is not always up to date. Please feel free to send me a list of your requirements and i will let you know what i have in stock
On up-dated pages
BLACK = In Stock - RED = Out of Stock
New badges added, previously not listed:
23/04/21 - Warrington Rylands 579 - General page"W"
23/04/21 - Upton St Leonards 51 - New 20/21 page
23/04/21 - CMB 562 - New 20/21 page
23/04/21 - Walton Casuals 578 - General page "W"
23/04/21 - Stoney Middleton 741 - General page "S"
12/05/21 - Knotty Ash 158 - General page "K"
12/05/21 - London Samurai Rovers 316 - General page "L"
12/05/21 - Teign Village 233 - General page "T"
12/05/21 - Norton Wanderers 219 - General page "N"
12/05/21 - Peel Park 200 - New 20/21 page
12/05/21 - Calverton MW 563 - New 20/21 page
BADGES BACK IN STOCK
Hartley Wintney 413
Thetford Town 43
Ashton & Blackwell 225
Stafford Rangers 670
Audley 163
Leverstock Green 277
Pagham 189
Solihull Moors 508
Thame Rangers 229
Baslidon Utd 568
Bewdley Town 165
Atherton Collieries 221
Ponteland United 130
I will have my badge stall at the following events!

NORTH STAFFS (STOKE) FOOTBALL PROGRAMME & MEMORABILIA FAIR
Saturday 22nd May 2021 - 10.30am to 1.30 pm
Bradwell Lodge Community Centre, Bradwell Lane, Porthill, ST5 8PS
Free Entry





LAST UPDATED 13/05/21 - 08.42
Terry Hall